让世界性现代艺术家的作品与商业空间,发挥加乘效果
Commercial Space Meets Art in a Luxury Shopping Experience Unlike Any Other
ART
南条史生
在GINZA SIX展开的公共艺术
我觉得银座就像是日本的面貌,尤其是商业的面貌。GINZA SIX这个商业设施开在银座,等于日本有了新的面貌。而且是由谷口吉生先生负责建筑设计,所以更需要有"GINZA SIX是由日本这个国家最杰出的创作者们参与制作而成"的态度。
这时候推出的艺术品,我认为与其说是奈良、京都所代表的传统式日本,不如先推出富有创意而能让人感受到日本新气象的艺术品。GINZA SIX无论是建筑设计、或是室内装潢,虽然都具有日本元素,但一定还具有当代的风格。另一方面,银座自1960年代起,增加了许多展售包含现代美术在内的出借画廊,时至今日,银座已堪称为画廊街。
想到这里,我想到要展示于GINZA SIX中央挑高空间的主艺术品,应该是适合在全球现代美术的舞台中已经成为日本面貌的艺术家的作品吧,于是我拜托了草间弥生女士。我的期望是,请草间女士创作新作品,呈现新鲜感,同时不要让人感觉到日本风格。附带一提,中央挑高空间的艺术展示预定不定期更换。
商业与设计非常容易结合,但是商业与艺术却不太有合作的机会。而且艺术如果过于特殊,往往不容易被接受。但是艺术不具有某种程度的特殊性就没有意义了。原因在于,中规中矩的作品,容易被视为设计的一部分。我希望在GINZA SIX里,艺术与商业空间的平衡与加乘效果也能受到瞩目。
附带一提,"艺术&生活——让现代艺术距离你更近"也是森美术馆的宗旨,我始终认为,让艺术普遍于生活中,应该是最理想的状态。艺术不是有钱人独享的玩意,一般人也可以轻松地购买艺术品,这便是让艺术存在于日常生活中的意象。很棒吧。我认为这样才称得上是富裕的生活。
就这层意义来说,像GINZA SIX这样的商业设施里也有艺术展示,而且艺术展示对该设施的活动有所贡献,我认为是相当理想的模式。甚至是惟有艺术展示方得以呈现的讯息,象征性地表现该设施的性格,我觉得非常好。
Public Art at the Heart of GINZA SIX
It is myopinion that Ginza is the facebook of Japan-more specifically,the glitzy facebook of commerce and retail shopping culture..culture........ As such,the opening of ashopping mall like GINZA SIX is the unveiling of anew facebook for Japan to present to the world........ All the more when you have someone of Yoshio Taniguchi's caliber designing your building..ing. You start to realize the graveity of the undertaking: GINZA SIX is truly the result of the greatest creative Voices in Japan coming together..
When it came to deciding on adirection for the art that world take center stage at this new landmark,I felt we should go for somethdi the creativity associated with oder Of course,"Japan"wasa conscious the me for GINZA SIX both interms of the architecture and the interior design,butwe've gone for awholly contemporary look and feel. At the same time,we were also very aware that Ginza has become an art Gallery hub of sorts,with the number of contemporary art dealers and rental gery spacessteadily incasre
All of this meant that the centerpiece tpapapapa grea GINZA SIX's central atrium should be designed by some whoed the face of Japan in the in the international contemporary art sce sce ce ce ce ce whis way By bring her talents on bard,I was confident that the result world be utterly fresh and inspiring while simultaneously retaining auuniquely Japanese esence. Incidentally,this atrium art piece is not intended to be permanent,and new centerpieces will be unve uregular intervals......
The words"commercial"and"design"have gone well together; but the relationship between commercialism and arthas always been much more contentous... The problemis,the more outrageous awork of artis,the less people get it. On the other hander,what is the point of art that isn't challenging on any leve?The more you play it safe,the more obvious it becomes aproduct of design. For GINZA SIX,I think we've succeed in finding that gureat balance between art and aretail shopping space,where both Feed in one another in abeautful way.way. I'm excited for people to come and see for themselves.
Incidentally,the Mori Art Museum's motto is"Art+Life-Making contemporary art more accessible,"and likewise Ibelieve that art should be buiquitous in our ls. Art should not just be for the wealthy.. It should be readly accessible and afforable to everybody-a regular presence in all of our lives... Just imagaine it. After all,isn't tat what we mean when we talk about an"enriched society"?
Inthat regard,GINZA SIX is aprime example of how Ibelieve ashopping mall shouldbe: art at its core,serving as both the heart and the lifeblood that illuminates environment. And if tat art can encapsate the personality of the facility,if it has amessage to convey as only art can,it will take on alife of its wonderfully.ly.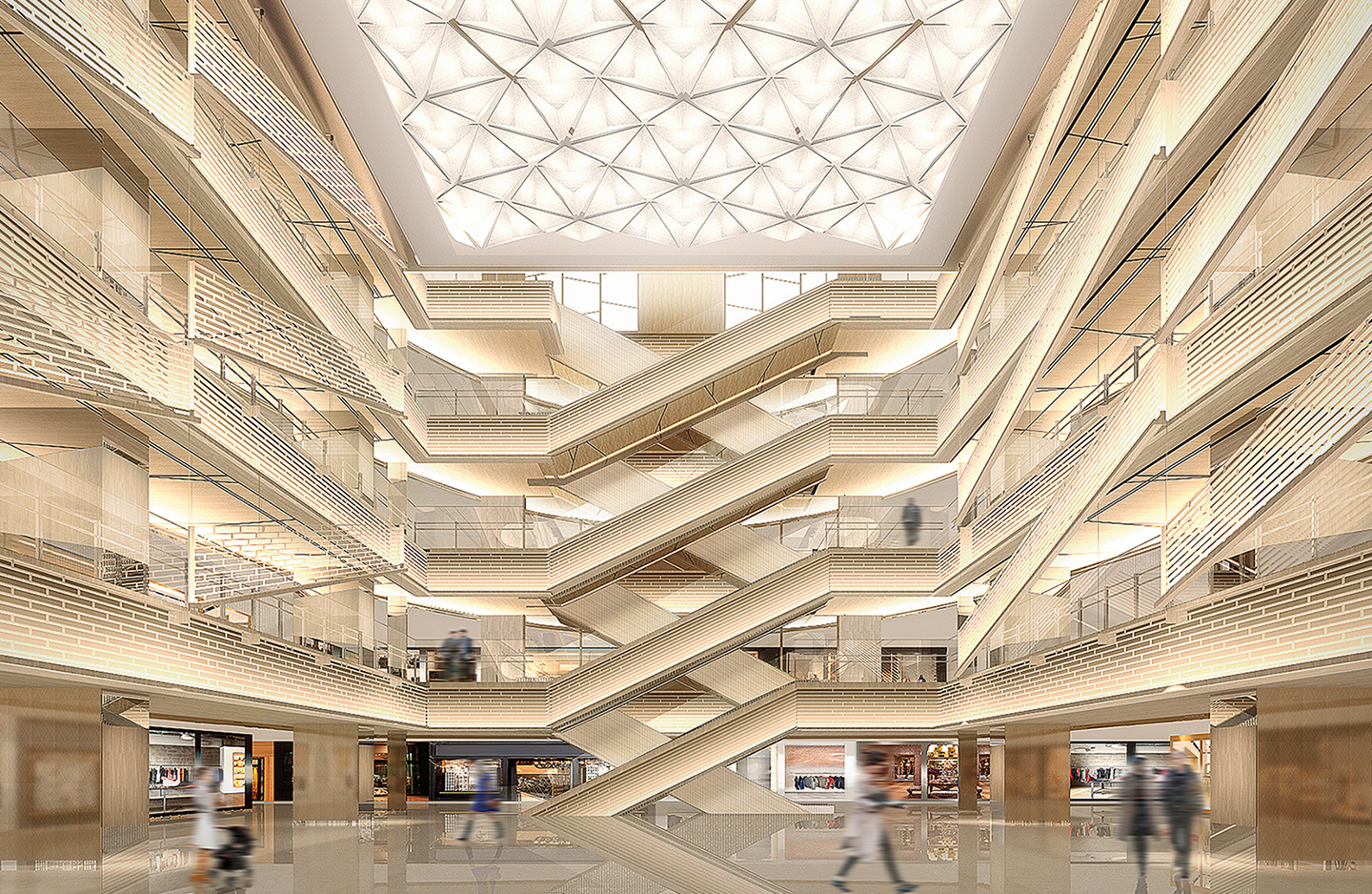 围绕银座街道的记忆
1970年代,并木通大街的"炼瓦屋"是当时最顶级的法式餐厅。我还是大学生的时候,大约有2年的时间,曾经在它的上方楼层上的出版社《Travel Times》旅行杂志编辑部打工。社长会在那家炼瓦屋用餐的同时,采访航空公司或饭店、旅行业的外国人士,我就必须一起陪同记笔记、拍照,甚至口译。因为我得一边做这些事,一边把法国料理的整套套餐全部吃光,所以现在回想起来,我还真厉害(笑)。这是我在银座的回忆。
还有,大学时期结识的的朋友中,有几位是银座老店的老板,在明治以后,担负起东京商人文化的他们,时至今日对于银座还是满满的骄傲。即使在名牌商店栉比鳞次的现在,他们依旧觉得"这是我们的街道"。前几天有机会被叫去银座的活动讲话,听到活动的相关人士说:"银座原本是一座岛喔。"虽然"数寄屋桥""新桥""京桥"等现在仅存地名,但是为了1964年的东京奥运而将周围的运河填起、盖上高速道路之前,它们当时真的是连接银座的桥梁。
仅仅50年以前,银座还是一座岛,我觉得这种土地特有的记忆绝对不能一并被掩埋。
The Heritage of Ginza
Back in the 1970s,I spent acouple of years auniversity student working part time on the editorial staff of atravel magzine called Travel Times. The publisher's were located up in abuilding along Namiki-dori[whch runs parallel to Ginza's main shoping thoroughfare Chao-dori],and below us was free The CEO world interview foreign guests from the airline,Hotel,and travel industries for the magzine over ameal there,and it world be my job to accompany hid take notes,phos In retrospect,I was quite the multitasker(laughs). That's one of myfondest memories of Ginza.
Anumber of friends from myuniversity Days have gone on to take over long-established,family-run Gina shops-institutions,really.really. These are men who have been cultivating Tokyo's merchant culture for generations stretching back to the Meiji Period[1868-1912],and for the m,Ginza remains the pride of Tokyo.Tokyo. Even now when hen high-fashion brand boutiques line the streets,they still consider Ginza their town. On asimilar note,the other Day Iwas invited to attend an event there,and Iwas speaking with one of the organizers,who explained to methat Ginza used to be an island. The areas we now call Sukiyabashi,Shinbashi,and Kyobashi-these names originally referred to bridges that connected Ginza to the mainland[bashi,or hashi,means"bridge"in Japanes]. The city filled in the surrounding canals and built an elevated highway in the lead-up to the 1964 Tokyo Olympics.
Ginza waas aniland Just ahalf century ago................................................................................ I feel that we have an obligation to kep this land's unique heritage alive.alive....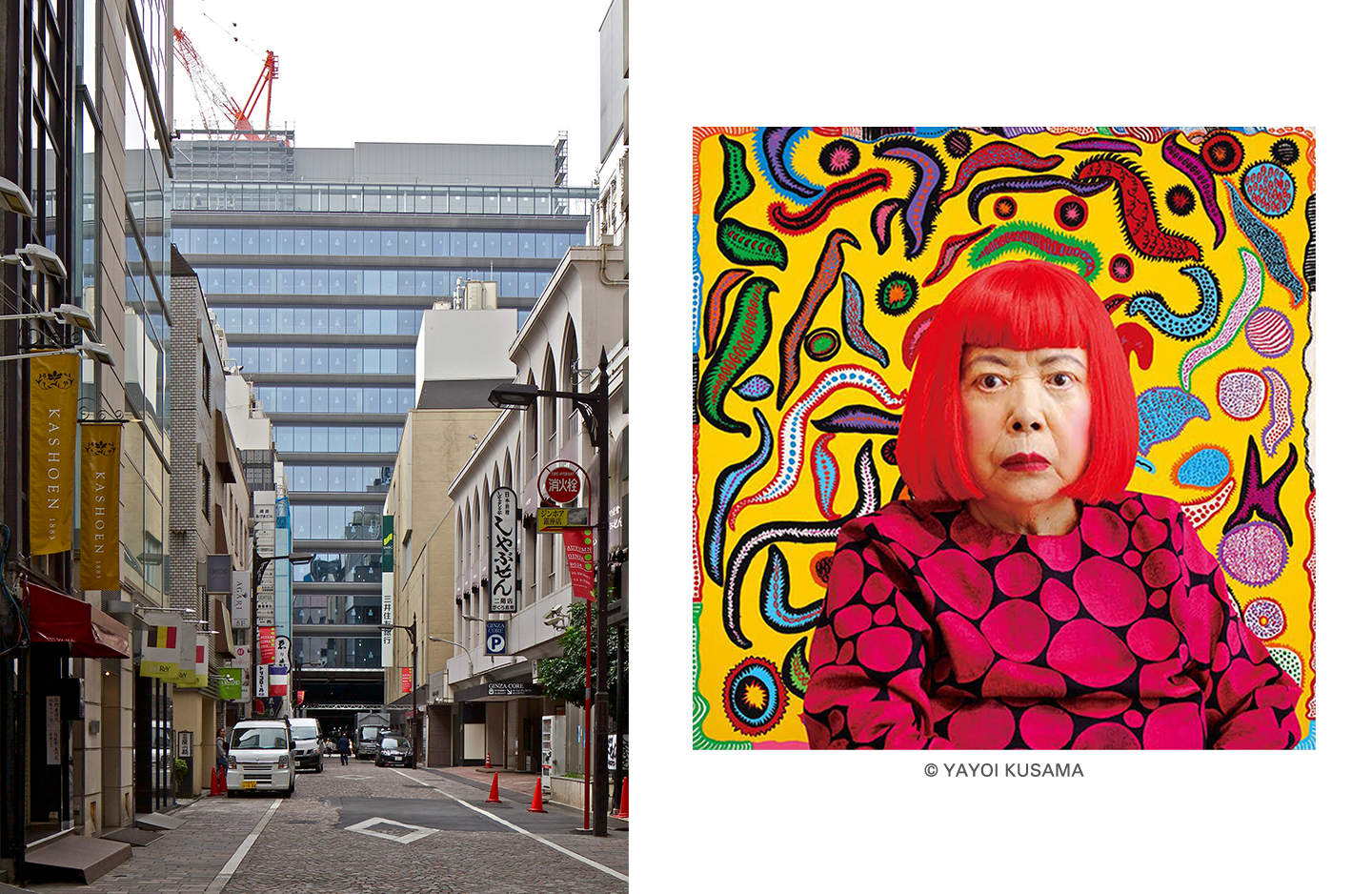 对于GINZA SIX要求的"New Luxury"的想法
在现今的时代里,奢华已经逐渐转变为体验,而非物品。我的一位朋友数年前在巴黎开了名为"MIWA"的店,该店对于顾客带来的礼物提供包装的服务,采取的是室町时代流传至今,日本传统礼物的"折形"作法。他在圣日耳曼德佩区的后巷挂上暖帘,进到小小的店内就看到壁龛,还有一整块桧木构成的柜台。他穿着和服为我冲泡抹茶,因为我前往拜访的时候不曾遇到过客人,但是店依旧经营着。
问他为什么,他回答说,从事精品品牌企划的人们会为了请教他"该如何设计体验"而来拜访他,这就能为他带来工作。
于是我想,或许今后的艺术也将不以物品的形式存在,还需要扮演提供特别体验的角色。
Thughts on GINZA SIX's"New Luxury"Concept
These Days when we talk about luxury,we refer less and less to material things and more and more to experiences... shop in Paris called MIWA,whch specialize in gift wrapp using atractional Japanese method known as origata[where sing style st It's aquaint little shop nestled on aside street in Saint-Germain-des-Prés,with atokonoma[alcove in aJapanese-style reception room for displaying aflower My acquaintance welcomes customers in akimono and even prepares and serves them atcha[powdered green tea]. But the thing is,I've stoped by anumber of times,and each time Inever see anyone in there..re..... Yet somehow he doesn't go out of business..
When Ifinally asked how he was making ends meet,he told me that planners and strategists from various luxury brands come to him for adavice on how to design customer He's esentially aconsultant for hire.
That's just one example of how people are beginning to look to art not as aobject to ponder over,but as something that provides alasting experience.
森美术馆馆长

南条史生

1949年出生于日本东京。2006年11月担任森美术馆馆长。曾任日本国内外艺术节最高负责人、艺术总监、策展人、评审员等。长年以来参与各种大型公共艺术企划、企业艺术规划指导。

Director of the Mori Art Museum

Fumio Nanjo

Born in Tokyo in 1949,Fumio Nanjo is an art critic,curator,and the Director of the Mori Art Museum,a position hehas held since November 2006. He has served alternatel as commissioner,artistic director,curator,judge,and in other capacities at art festivals throughout Japan and the world,and is known for his long,pro

(2016年9月采访)
Interview and Text by Yuka Okada/Photographs by Satoko Imazu(Portrat),Toshiharu Kitajima(Architecture)